Christie Derek, PhD, MPH
Doyen recherche et développement / Dekan für Forschung und Entwicklung, professeur ordinaire HES
Autres thèmes / Weitere Themen / Other topics
+41 26 429 61 12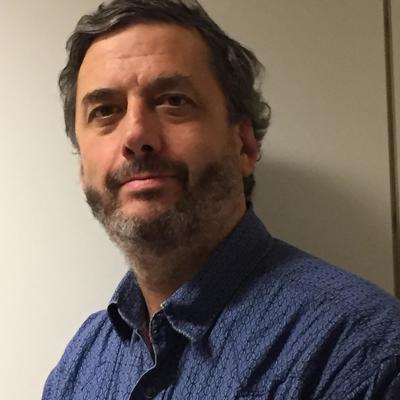 Parcours / Lebenslauf / Professional experience
Born to a British father and a Mexican mother, Derek Christie spent his first six years in London before moving to Switzerland. He did half of his school education in English and the other half in French. He also speaks German and some Spanish and Italian. His professional life also shows the hallmarks of plurality. After studying biology at the University of Geneva, he went on to acquire Master's degrees in medical genetics (Univ. Geneva), statistics (Univ. Neuchâtel), tobacco control (Univ. Montpellier) and public health (Univ. Geneva).
After a stint as a laboratory researcher in medical genetics, he moved into science writing and science communication. In parallel, he entered public health research on a part-time basis, at what was then the Institute for Social and Preventive Medicine at the University of Geneva (now: Institute of Global Health). He acquired further skills and experiences in public health by working as a health educator in schools, at WHO (Department of Public Health and Environment), at UNAIDS (Office of the Chief Scientific Advisor) and for the Médecin cantonal in Geneva, where he was until 2020 in charge of public policy for nutrition and physical activity, as well as health inequalities.
Between 2014 and 2018, he undertook his PhD at the EPFL in Lausanne: a trans-disciplinary and mixed-methods project investigating the practice and potential of daily walking in urban settings. Since 1st December 2020, he is Dean of research and development at the School of Health Sciences, University of Applied Sciences Western Switzerland, in Fribourg/Freiburg. He remains affiliated with the Institute of Global Health at the University of Geneva and with the Healthy Habitats cluster of the Habitat Research Center at the EPFL.
Champs de compétences / Forschungsschwerpunkte / Fields of expertise
Public health, environmental health, non-communicable diseases, health promotion, science communication, health research methodologies (mixed methods)
orcid.org/0000-0001-7642-0245
Articles (peer-reviewed)
Environmental and urban health
J Simos, N Cantoreggi, DPTH Christie, Forbat J. Wind turbines and health: a review with suggested recommendations. Environnement, Risques & Santé 18(2), 1-11 (2019).
T Diallo, N Cantoreggi, J Simos, DPTH Christie. The inclusion of health in impact assessments: a case study in Geneva, Switzerland. Impact Assessment & Project Appraisal 36(1), 45-56 (2018).
T Diallo, N Cantoreggi, J Simos, DPTH Christie. Is HIA the most effective tool to assess the impact on health of climate change mitigation policies at the local level? A case study in Geneva, Switzerland. Global Health Promotion 24(2), 5-15 (2017).
J Simos, L Spanswick, N Palmer, D Christie. The role of health impact assessment in Phase V of the Healthy Cities European Network. Health Promotion International 30 (suppl 1), i71-i85 (2015).
T Mattig, N Cantoreggi, J Simos, CF Kruit, DPTH Christie. HIA in Switzerland: strategies for achieving Health in All Policies. Health Promotion International, dav087 (2015).
S. Munafò, V. Kaufmann, D. P. Christie, S. Vincent-Geslin and E. Ravalet. Dispositions et usages de l'automobile et des transports publics entre 1994 et 2011: Berne, Genève et Lausanne, Revue d'économie régionale et urbaine, 5, pp. 753-782 (2015).
International health
C Huber, Montreuil, D Christie, & A Forbes (2022). Integrating self-management education and support in routine care of people with type 2 diabetes mellitus: a conceptional model based on critical interpretive synthesis and a consensus-building participatory consultation. Frontiers in Clinical Diabetes and Healthcare. doi: 10.3389/fcdhc.2022.845547
F Schwander-Maire, A Querido, T Cara-Nova, MA Dixe, D Aissaoui, Z Charepe, D Christie, C Laranjeira. Psychological Responses and Strategies Towards the COVID-19 Pandemic Among Higher Education Students in Portugal and Switzerland: A Mixed-Methods Study. Frontiers in Psychiatry, 13 (2022)
doi: 10.3389/fpsyt.2022.903946
M Abbas, T Aloudat, J Bartolomei, M Carballo, S Durieux-Paillard, L Gabus, A Jablonka, Y Jackson, K Kaojaroen, D Koch, E Martinez, M Mendelson, R Petrova-Benedict, S Tsiodras, D Christie, M Saam, S Hargreaves, D Pittet. Migrant and refugee populations: a public health and policy perspective on a continuing global crisis. Antimicrobial Resistance & Infection Control, 7:113 (2018).
P Vetter, JA Dayer, M Schibler, B Allegranzi, D Brown, A Calmy, D Christie, et al. The 2014–2015 Ebola outbreak in West Africa: Hands On. Antimicrobial Resistance & Infection Control, 5:17 (2016).
Radiation protection
A Kumagai, Z Carr, O Akira, D Christie, S Yamashita. Survey of the WHO-REMPAN network's capability for strengthening preparedness for radiological and nuclear emergencies. Radiation Protection Dosimetry, 151(4), pp. 607-610 (2012).
DH Christie, MC Chu, Z Carr. Global networking for biodosimetry laboratory capacity surge in radiation emergencies. Health Physics, 98(2), pp. 168-171 (2010).
Tobacco control
JF Etter, C Ritter, DH Christie, M Kunz, JP Rieder, JP Humair, H Wolff, A Eytan, C Wahl, B Elger. Implementation and impact of anti-smoking interventions in three prisons in the absence of appropriate legislation. Preventive Medicine, 55 (5), 475-481 (2012).
DH Christie, Jean-François Etter. Validation of English-language versions of three scales measuring Attitudes towards smoking, self efficacy and self-change strategies". Addictive Behaviors, 30(5), pp. 981-988 (2005).
D Christie, JF Etter. Utilization and impact of cigarette pack covers illustrated with anti-smoking messages. Evaluation and the Health Professions, 27(2), pp. 107-118 (2004)
Medical genetics
JL Blouin, DH Christie, A Gos, A Lynn, MA Morris, DH Ledbetter, A Chakravarti, SE Antonarakis. A new dinucleotide repeat polymorphism at the telomere of chromosome 21q reveals a significant difference between male and female rates of recombination. American Journal of Human Genetics, 57, pp. 388-394 (1995).
Other contributions
Chanson-Hoglund, H., Christie, D., Assal, M., & Jeannot, E. (2021). Expérience clinique d'une orthèse de décharge pour prevenir et guérir les ulcères digitaux du pied diabétique. Revue médicale suisse, 17(725), 315-319. doi: 53738/REVMED.2021.17.725.0315
Christie, D., Brunetti, S., & Joya, K. (2021). Enjeux sociaux et aide concrète pour les personnes 55+. Animation de l'atelier au Forum Addiction Fribourg. Thème: Addiction entre l'âge actif et l'âge AVS, 22 septembre, en ligne.
Christie, D. Incitatifs à la promotion de la marche quotidienne. Présentation orale à la 33e Journée genevoise de nutrition clinique et diétothérapie, symposium virtuel organisé par l'Unité de nutrition des HUG, 18 mars, online (2021).
T. Jusselme, E. Hoxha, C. Liardet, H. Verma, D. Christie, L. Pattaroni. Intensification of use: an exploratory study. In: Research-driven Building Design: Towards 2050 (2019).
A. Audikana, A. Mezoued, J. Martinez Contreras, D. Christie, E. Ravalet. Promouvoir la lenteur dans la ville: rythmes de vie et aménagement urbain. In: V. Kaufmann, Vincent, E. Ravalet. L'urbanisme par les modes de vie. Outils d'analyse pour un aménagement durable, MétisPresses, Genève (2019) http://hdl.handle.net/2078.1/236759
D. P. Christie, E. Ravalet and V. Kaufmann. Walking in Switzerland: urban and not so leisurely. In: Routledge International Handbook of Walking (2018).
D Christie, I Guessous, E Ravalet, V Kaufmann. Associations between daily walking and subclinical health markers in a Swiss City. Journal of Transport & Health 5, S3-S4 (2017).
V. Braun, D. Christie, B. Claramunt, T. Dax, C. Drexler, I. Jelen, R. Kanka, N. Katsoulakos, G. Le Roux, M. Price, T. Scheurer, R. Weingartner. Mountains for Europe's Future. A strategic research agenda. Input to the Horizon 2020 Work Programmes and Calls (2016).
D. P. Christie. White Working-Class Communities in Lyon, France. At Home in Europe. Open Society Foundations (2015).
D Christie, E Ravalet, V Kaufmann. Looking for "frequent walkers" among the resident population of Switzerland. Journal of Transport & Health, 2(2), S64 (2015).
D. P. Christie, J. Simos, E. de Leeuw, E. Ravalet and V. Kaufmann. Why is promoting daily walking not a priority in European cities? A review and research agenda. International Conference on Urban health. Coimbra, Portugal (2017).
D. von der Mühll, D. P. Christie, E. Ravalet. A one-week transdisciplinary course on walking for 2nd-year students of architecture and engineering. Royal Geographical Society, London (2017).
D. P. Christie, V. Kaufmann and E. Ravalet. Frequent walkers are multimodal in their actions and individualistic in their motivations, according to a qualitative study in two Swiss cities. Desirable Transport Futures, 3rd international workshop, Freiburg, Germany (2016).
D. P. Christie, E. Ravalet and V. Kaufmann. Transport mode choice in alpine resorts in Switzerland. Perth III: Mountains of Our Future Earth, Perth, Scotland (2015).
D. P. Christie, E. Ravalet, V. Kaufmann, N. Cantoreggi and J. Simos. Positive association of walking with the use of public transport in Switzerland. Swiss Public Health Conference 2015, Geneva (2015).
D. P. Christie, E. Ravalet and V. Kaufmann. Big walkers over non-walking drivers: a walking-related metric for evaluating the success of transportation and public health policies. Walk21, Vienna (2015).
D. P. Christie, A. Koymans, T. Chanard, P. Vollichard and S. Lavadinho et al. City automated transport system (CATS): the legacy of an innovative European project. European Transport Conference, Frankfurt (2015).
A. Audikana, D. P. Christie. Exploring urban speed in the context of slow-oriented urbanism. Congress of the Swiss Sociological Association, Lausanne (2015).
D. P. Christie, V. Kaufmann and E. Ravalet. Analysing the distribution of walking in the Swiss population. 15th Swiss Transport Research Conference, Monte Verità, Ascona, Switzerland (2015).
S. Munafò, D. P. Christie, S. Vincent, E. Ravalet and V. Kaufmann. The evolution of modal choice among motorised professionally active people in three swiss cities. 14th Swiss Transport Research Conference, Monte Verità, Ascona, Switzerland (2014).
E. Ravalet, D. P. Christie and V. Kaufmann. Walking for transport in Zurich and Geneva. Differential Mobilities, Concordia University, Montreal (2013).