Macdonald Mia, M.Ost
Research collaborator UAS
Unité de Recherche en Mobilité & santé de l'appareil locomoteur (URM) / Forschungseinheit für Mobilität und Gesundheit des Bewegungsapparates / Unit of Research in Mobility & Musculoskeletal Care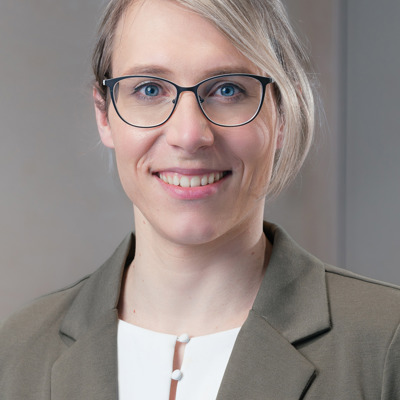 Parcours / Lebenslauf / Professional experience
Mia Macdonald completed a Master of Osteopathy (M.Ost) with distinction (The beliefs and attitudes of UK registered osteopaths towards chronic pain and the management of chronic pain sufferers) at the University of Bedfordshire in 2016 and a CAS in higher education didactics in 2021 at the Zurich University of Teacher Education.
After completing her M.Ost she started her work as an osteopathic clinician and as a researcher for the Swiss Osteo Survey project. Her main tasks included the communication with the participants, building the electronic database on REDCap to collect the data and support the principal investigator with the data analysis and the report.
This allowed Mia Macdonald to increase her research skills and lead the OsteoCOVID-19 project in 2020 to analyse the effects of the SARS-CoV-2 pandemic on the osteopathic profession in Switzerland.
In the URM, Mia Macdonald is responsible for the supervision of masters students, lecturing in research methods and liaising with the professional association of osteopaths (SVO-FSO) for masters projects.
Mia Macdonald has a special interest on bio-psycho-social aspects of healthcare, the management of chronic pain and women's health. Her research focuses on quantitative methods and electronic data collection.
Her main motivation for these diverse roles is the possibility to promote the progress of students development in critical thinking and self-development.
Champs de compétences / Forschungsschwerpunkte / Fields of expertise
Osteopathy, Pain, developing research questions, study designs, quantitative methods, electronic data collection (REDCap)
Journal (peer-reviewed)
Baldin, I., Esteves, J. E., Tramontano, M., Macdonald, M., Baroni, F., & Lunghi, C.
A Content Analysis of Osteopaths' Attitudes for a More Inclusive Clinical Practice towards Transgender People.
Healthcare, 17 March 2022; 10(3), 562
DOI : 10.3390/healthcare10030562
Vaucher P, Macdonald M, Carnes D.
The role of osteopathy in the Swiss primary health care system: a practice review.
BMJ Open. 1. August 2018;8(8):e023770.
DOI: 10.1136/bmjopen-2018-023770
https://bmjopen.bmj.com/content/8/8/e023770
Macdonald M, Vaucher P, Esteves JE.
The beliefs and attitudes of UK registered osteopaths towards chronic pain and the management of chronic pain sufferers - A cross-sectional questionnaire-based survey.
International Journal of Osteopathic Medicine. 1. Dezember 2018;30:3–11.
DOI: 10.1016/j.ijosm.2018.07.003
http://www.sciencedirect.com/science/article/pii/S1746068917301104
Published Reports
Macdonald M, Vaucher P.
Impact of the COVID-19 crisis on osteopathic practice in Switzerland: a national survey Fribourg: Swiss Osteopathy Science Foundation; 2020 Okt. Report No.: 1.1.
Verfügbar unter: https://drive.switch.ch/index.php/s/AThKCrbvK5hEUSy
Vaucher P, Macdonald M, Carnes D.
Osteopathy in Switzerland: Practice and Contribution to Healthcare 2016 – 2017
Zenodo; 2018 Juni
https://zenodo.org/record/1290808
Macdonald, M. (project leader), Vaucher, P. (principal investigator): OsteoCOVID-19 - A survey about how the osteopaths activities have been impacted by the measures to combat the spread of SARS-CoV-2. http://www.osteoresearch.org/osteo-covid-19
Vaucher P. (principal investigator), Carnes, D. (co-principal investigator), Macdonald, M. (research collaborator): SwissOsteoSurvey - Describing osteopaths' scope of practice within the Swiss health system; a practice review study. Financé par Fondation pour la promotion de l'enseignement et de la recherche en ostéopathie et en collaboration avec Fédération Suisse des Ostéopathes, Fédération Suisse des Assistants en Ostéopathie et Fédération Suisse des patients. http://www.osteosurvey.org/OsteoSurvey ; https://pubmed.ncbi.nlm.nih.gov/30173163