The applied research and development (aR&D) strives to produce implementable solutions that are meaningful to our field partners, educators and students and help them acquire the needed insight to aim for excellence in quality of care.
Our field of action is focused on proximity research. We therefore work in close relationship with policy makers, stakeholders, professional associations, health providers, educators, and patients to document and consolidate sound strategies for addressing health challenges across disciplines.
Our research units focus on three topics:
Ageing
Mobility and musculoskeletal care
Complex nursing interventions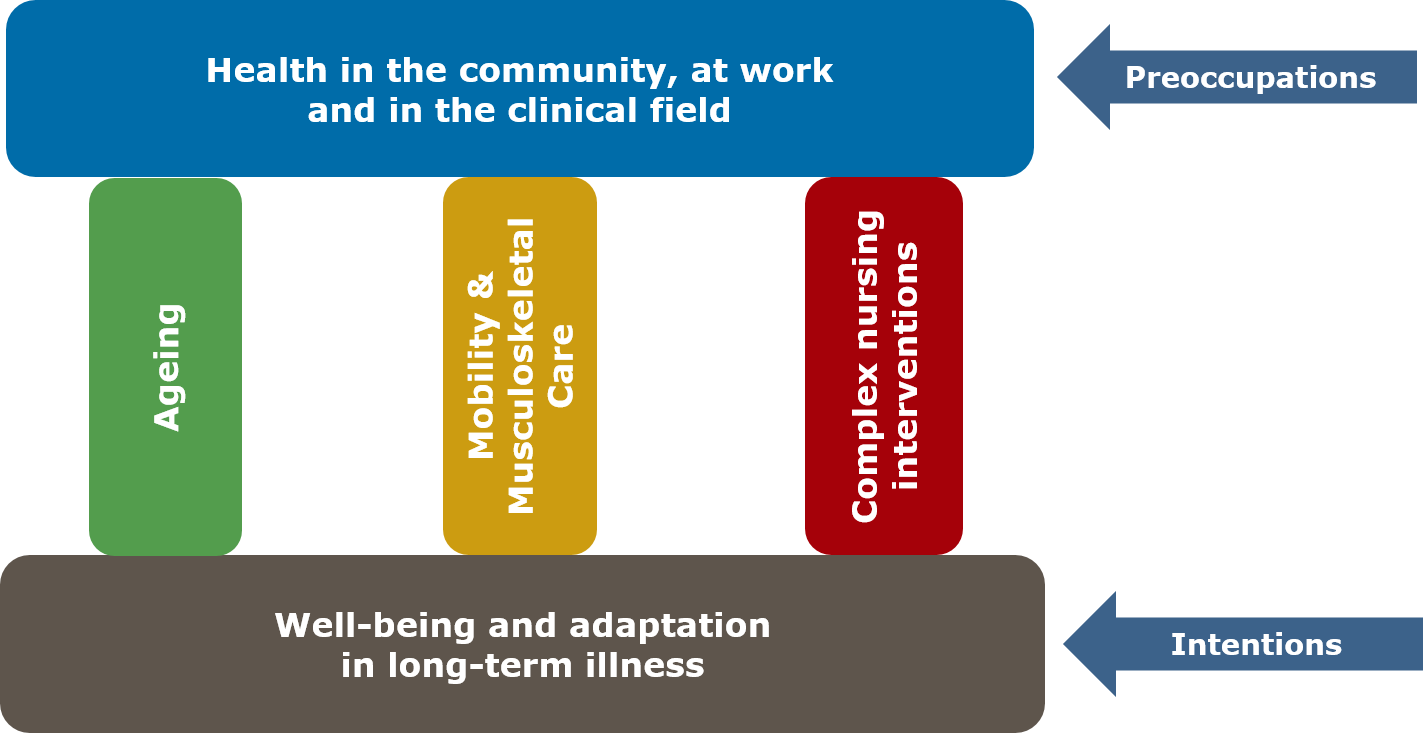 The recent activities of our research units are summarized in the following document: Biennial Report 2016-2017.
Our activities are also periodically gathered and published in our Research Journal:
Journal de la recherche | Forschungsjournal
N°9 - mai  2021 (.pdf)
N°8 - sept. 2020 (.pdf)
N°7 - mars 2020 (.pdf)
N°6 - sept. 2019 (.pdf)
N°5 - mars 2019 (.pdf)
N°4 - 01.10.2018 (.pdf)
N°3 - 01.03.2018 (.pdf)
N°2 - 01-08.2017 (.pdf)
N°1 - 04-12.2016 (.pdf)

In charge of research
Derek Christie
PhD, MPH
Full Professor UAS
+41 26 429 61 12
derek.christie@hefr.ch
In charge of the research units
Sandrine Pihet
Research unit in ageing (URV)
PhD, Professeure HES ordinaire
+41 26 429 60 52
sandrine.pihet@hefr.ch
Katia Iglesias
Unité de Recherche en Mobilité & santé de l'appareil locomoteur (URM)
PhD, Professeur HES ordinaire
+41 26 429 61 22
katia.iglesias@hefr.ch
Petra Schäfer-Keller
Research unit in complex nursing interventions (URIC)
PhD, ordentliche Professorin FH
+41 26 429 60 37
petra.schaefer-keller@hefr.ch
Projects administration
François Mooser
Adjoint scientifique HES
+ 41 26 429 60 83
francois.mooser@hefr.ch
research.heds@hefr.ch
Secretariat
Martine Verdon
+41 26 429 60 42
martine.verdon@hefr.ch
research.heds@hefr.ch